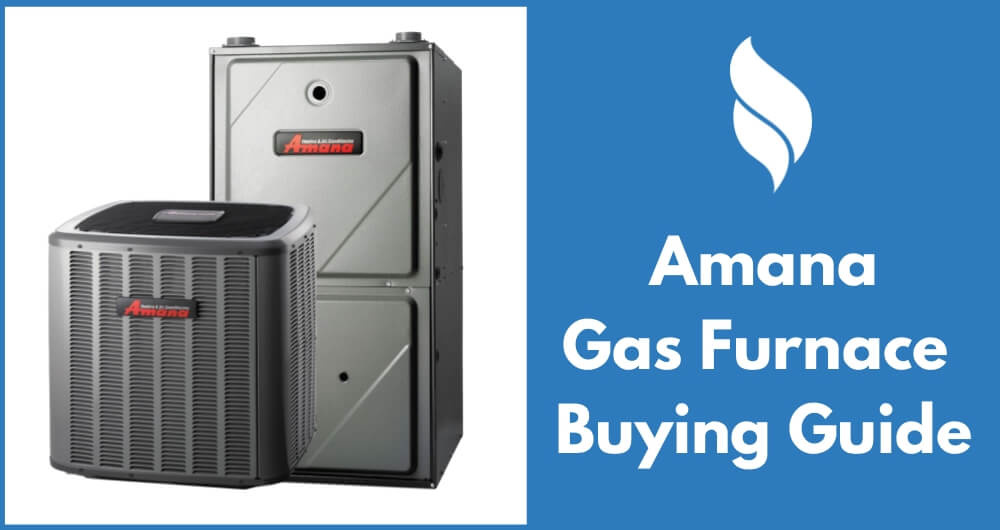 Note: Before you dive into the specific brand review, we highly recommend you to read our elaborate Gas Furnace Buying Guide in advance. There are several crucial steps you need to take before you even start to think about the brand.
In this guide, we are going to give you an overview of gas furnaces from Amana. The Amana Company started back in 1934 as a refrigerator company taking its name from Amana city in Iowa. The company was later to be purchased by another HVAC company, Goodman in 1997. Goodman too sold major Amana appliances to Maytag retaining the heating and air conditioner divisions. In 2012, Goodman was purchased by the Daikin Group but still produces gas furnaces under the name Amana.
The Amana Company offers homeowners a wide range of gas furnaces that are long lasting with very good warranties (lifetime). Despite the company changing hands, it has remained a major brand in the production of gas furnaces across the US. According to Gold Award Winner, Amana is ranked the third best brand behind Carrier and Bryant. This rating is based on the energy efficiencies, warranties and the models produced. Now let's see the quick navigation of this guide.
Amana Gas Furnaces Features
Amana's ComfortNet Communicating System
To optimize energy efficiency and indoor climate control, the operation of the heating and air conditioning system's components must be coordinated. For example, the system must match the speed of the blower motor with the heating capacity of the furnace or air conditioning capacity of the AC to eliminate pushing untreated air into living space while maximizing efficiency.
Syncing systems are known in the HVAC industry as communicating technology. Amana's ComfortNet Communications is one of the most effective coordinating systems available. The system's brain is the ComfortNet control, or thermostat, that sends data to each component to integrate operation. The control monitors the system's performance to detect irregular conditions and diagnose the issue. Problems can be corrected, or a notification for service can be made.
Many of Amana's Energy Star-certified HVAC components are compatible with the ComfortNet Communications control including:

Furnaces: Amana AMVM97 (98%), ACVM97 (97%), AMVC96 (96%), AMVC8/ADVC8 and ACVC8 (80%)
Central air conditioners: Amana AVXC20 (24.5 SEER), ASXC18 (19 SEER) and ASXC16 (16 SEER)
Heat pumps: Amana AVZC20 (21 SEER), AVZC18 (19 SEER) and ASZC18 (18 SEER)
Related Article: HVAC System: Communicating vs Non-communicating
Self-diagnostic Control Board
The board allows the unit to diagnose any problems with the unit and report any problems on the control board. This allows for easier repair and management of the unit.
Lifetime Warranty
The Amana gas furnaces have one of the best warranties in the market. The heat exchanger comes with a lifetime warranty on all functional parts of the unit coming with a ten-year warranty. You have to register these warranties within 60 days of installation for them to apply. Amana also comes with extended service agreements.
Cons
The only con for Amana is the price. For most Amana models, you can easily find an alternative but identical model from Goodman, but you have to pay $500-$1000 higher for the Amana brand itself.
Model Recommendation
| Model | AFUE | Blower Speed | Stage |
| --- | --- | --- | --- |
| AMVM97 | 97 | Variable | Modulating |
| ACVM97 | 97 | Variable | 2 |
| AMVC96 | 96 | Variable | 2 |
| ACVC96 | 96 | Multi ECM | 2 |
| AMEC96 | 96 | Multi ECM | 2 |
| AMSS96 | 96 | N/A | 1 |
| AMSS92 | 92 | N/A | 1 |
| AMVC8 | 80 | Variable | 2 |
| AMH8/ADH8 | 80 | Variable | 2 |
| AME8 | 80 | Multi ECM | 2 |
When you're looking for the most cost-effective model for Coleman, the strategy is to find the balance between furnace cost and energy costs. Let's use the zone map to identify efficiency levels for each that strike that balance:
Cost-effective Models


Zones 1 & 2 (hot)
80%
Zone 3 (warm)
80%
Zone 4 (moderate)
90%

AMVC8

Zone 5 (cool)
90%-93%

AMSS92

Zone 6 (cold)
92%-95%
AMSS96, AMEC96
Zone 7 (very cold)
95% and up
AMVC96, ACVC96
Modulating AMVM97 is the highest-end furnace of all the product line. However, in my opinion, the 97% AFUE is nearly the same as 96%. There is no reason to pay $1000 more for the extra 1% efficiency unless your local government can offer huge rebates for it.
Contractor Feedback for Amana
Thanks for the interview by PICKHVAC. Having repaired and installed furnaces for years, I have a lot of experience with gas furnaces. The truth is that almost every gas furnace must be repaired at some point. The warranty factor is a good consideration when making a purchase. The Amana warranty options are excellent, but you have to register them within 60 days of installation. Most consumers who find no problems with their furnaces don't write anything online. However, you will find several negative comments from consumers who have had bad experiences with their gas furnaces. It is important you buy from a dealer or contractor who can installs the unit properly as most problems arise from poor installation.

-Richard, 10+ years Amana Contractor
Amana Gas Furnace Prices By Model
We need to set an equal baseline before we can list the prices for each Amana model. In this list, each furnace includes the same parameters: 70,000-75,000 btu with 1000 cfm blower which is proper for a mid-sized home of around 2,000 square feet, 10-year warranty excluding labor fee.
The Unit Only price is the online wholesale price without shipping fee. The Unit Installation Cost include gas furnace unit, all the material for the house and labor fee.
| Models | Unit Only | Unit Installed Cost |
| --- | --- | --- |
| Amana AMVM97 | $2,550 | $3,200 |
| Amana ACVM97 | $2,550 | $3,200 |
| Amana AMVC96 ACVC96 | $2,350 | $2,950 |
| Amana AMSS96 ACSS96 | $2,350 | $2,950 |
| Amana AMEC96 | $2,300 | $2,850 |
| Amana AMSS92 | $2,150 | $2,500 |
| Amana ACSS92 | $2,150 | $2,500 |
Amana Gas Furnace Submitted Prices
Brand & Model & Size
Price
Home Location
Home Size
Amana AMH 95
$3,399
Miami
3500 sqft
Initially, before I got my Amana gas furnace, I have had multiple problems with my furnace which has forced me to get it out of the house more than thrice when it stopped heating. The technician later diagnosed a problem with its motor and other parts of the furnace. I called the customer care hoping that they would help me fix the problem only for them to tell me that the warranty doesn't cover the parts" it took me a while before I could get in touch with a technician who would accurately bring my equipment back to life.it cost me an extra cost of $520 which covered the labor costs and costs used to acquire spare parts, not forgetting inconveniences such as a cold room while a furnace is already in place.. It, however, has been functional until the issue with its system came up.
Amana AMV9
$1,899
Seattle
1800 sqft
I bought my Amana furnace after my long time Trane furnace broke down and the technician claimed that it was beyond repair. I decided to purchase the Amana AMV9 after a friend of mine recommended me since she had gotten excellent service from it. Installing the system in my house was however not a walk in the park and it gave us a lot of difficulties like wiring of the thermostat and the fan functionality. He finally found a way to customize the wiring. It correctly functioned for about 2 years and started overheating it was devastating. I didn't know whether the problem came about due to the customized wiring which was sorted out. I, however, haven't faced any other challenges with the unit.
Amana AMVC95
$2,700
Kansas, Merriam
2800 sqft
We acquired our new home which made us very excited. We needed a furnace since it was soon going to be winter. We had to protect ourselves from the cold and the kids too. We had a couple of choices to choose from but we decided to settle for Amana since it had better specifications as compared to other brands despite its price being slightly higher we had to look for a qualified and competent technician to carry on with the installation so as to prevent later faults. The installation was done perfectly and till to date, I can say without a doubt that the furnace has always given its best.
Amana VC8
$1,659
Sacramento
2100 sqft
I installed my Amana a few months ago. It's the best so far compared to my initial Trane. I haven't had any complaints with its motor unlike the initial brand's motor which kept giving me issues. I had to keep contacting the warranty services frequently. It is very quiet that you hardly notice the presence of a heating furnace in the house. It has given me more reason to love my space. I hope this is going to last forever. Thank you Amana.
How to Get the Best Amana Gas Furnace Prices?
Firstly, keep in mind that installation quality is always the most important thing for gas furnace project. So never sacrifice contractor quality for lower price.
Secondly, remember to look up the latest tax credit and rebates.
Thirdly, ask for at least 3 bids before you make the decision. You can click here to get 3 free estimates for you local contractor, and this estimate already takes rebates and tax credit into consideration and filter unqualified contractors automatically.
At last, once you chose the right contractor, remember to use the tactics from this guide: homeowners tactics when negotiating with HVAC dealer to get the final best price.
Feel free to ask any question by leaving a comment. We will answer any question with actionable tips.